Our beautiful property is made up of two distinct buildings: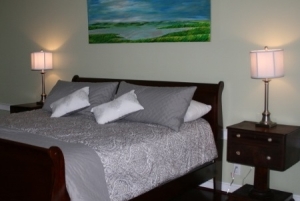 The Inn is an 18th century colonial that underwent a complete remodel in the summer of 2015. Open year-round, whether you are joining us from across the globe or across the street, at The Inn you will find romance, comfort and a truly incredible experience.
The Motel is open for the spring and summer months and is a wonderful place to stay if you are looking for that old school motel feel. The Motel offers a variety of different room configurations and is a great choice if you are traveling with children or pets.
Shea's Riverside Inn & Motel is conveniently located on the Essex river. When you stay with us you will be steps away from our sister property, Shea's Riverside Restaurant & Bar, as well as award winning antique shops throughout downtown Essex and miles of breathtaking views.
Property guests can take advantage of free, on-site parking and access to our beautiful riverside grounds. We also offer free WiFi for all of our visitors, although we invite you to use your stay with us an an opportunity to unwind and unplug.